"Nobody reads anymore," complained the salesperson famous for 500-word missives to her prospects. "I put so much effort into my follow-up and nurturing emails and it's just crickets on the other end." OK, so no one is sending 500-word emails and this person is fictitious. But it is true that long emails don't get the attention we'd like, and short emails often leave the sender wanting to communicate more. Until recently, it wasn't easy to solve this dilemma.
Standalone video tools from Vidyard and Wistia allow video messages to be embedded in emails, but these solutions only scratch the surface of what's possible.
Recently, HubSpot integrated video capture and playback from Vidyard as a near-native toolset. The integrated nature of HubSpot video truly changes the game for sales, marketing and success teams. In this post I'll talk about and demonstrate three great ways sales teams can use HubSpot video to increase their impact on prospects they want to close and clients they want to upsell.
Three Ways Your Sales Team Can Prospect Using HubSpot Video
Outbound email with a pre-recorded video likely to be of interest
Follow up after a call or voicemail with personal video message
Embed screen share video from a demo with your follow-up
Prospecting with a pre-recorded video
Marketing videos are the easiest for sales teams to include with their outbound emails. All they need to do is include a video link in the body of the email, write a subject line and a little body copy. If you use templates and sequences in your sales prospecting, these can even be canned for the sales team to use. All they need is an email address and basic contact info, and high-impact multi-media emails are ready to go. Great videos for sales to use include
Explainer videos. These short and entertaining videos help a prospect to understand what the solution is, usually in a very relatable way (problem, solution, contact step). If you're early in the selling process, this can work to qualify a prospect.
Demo videos. If you sell software or information services your video demo is a great tool to help prospects decide if they want to talk to you. Seeing a solution to a problem they have will drive them further/faster through to the next stage of their buying journey. Here your marketing or sales engineering department can be a big help in creating video you can use in sales. Covering likely use cases will give the sales team a choice of videos to send in different circumstances.
Webinars. This can be a very powerful content item when sent to the right prospect. And if you're using a premium account from Wistia or Vidyard, you can control access to it within the player by embedding a form that's required to proceed anywhere in the playback. A good webinar sent to a targeted prospect is high-value content and likely to generate a good response (YMMV depending on vertical market).
Personal video voicemail messages
You've left a voicemail on the prospect's cell or office phone. So how do you stand out from the deluge of calls high-value prospects receive? Allow me to propose what I call "warm prospecting videos." I really like what I've learned so far about Mark Wayshak's sales technique. (He calls it "Game Plan Selling.")
You can use some of his tactics of positioning in video voicemails you send via email. He uses positioning statements to get prospects to relate to what he wants to sell. Instead of asking for pain points directly, he offers them as what many of his clients experience and then asks if that's true for the prospect. Now, during a call, he can go to the next positioning statement interactively if one fails to resonate. But in video, you might offer two that you are highly confident match a lot of your qualified prospects. Importantly, you want to come off as a trusted advisor, so your script has to be tight and your delivery natural. Practice, practice, practice!
Below is a link to a recent video voicemail I made using the new HubSpot video integration with Vidyard. If you are using the free version (as I am), you cannot embed a video from CRM into marketing with a nice thumbnail, etc. directly, so I made my own and added the link.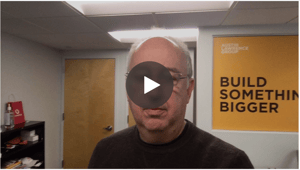 Post-sales Demo Video
All SaaS demos cover more than any prospect can possibly absorb. And most of these demos are conducted over a videoconference system like Zoom or GoToMeeting. The easiest source of video for a sales exec occurs right during the demo. With one click you have tailored video for your prospect who you KNOW is engaged enough to attend your sales demo. But what if she has questions or mis-remembers a key selling point? By sending the recorded video of the demo you are doing your prospect a service and advancing the sale. And with trackable links from the HubSpot Sales CRM, you'll know when they are watching and can time your follow-up to be while your material is still fresh in her mind.
Have more questions about HubSpot video and its sales CRM platform? Feel free to book a meeting on my calendar for a no-obligation consultation.