We are back from last week's INBOUND 2014 conference in Boston, MA and looking to integrate all we learned to help our clients grow. It was "Wicked Good" and we are ready for growth. Well played HubSpot. Well played. Thank you.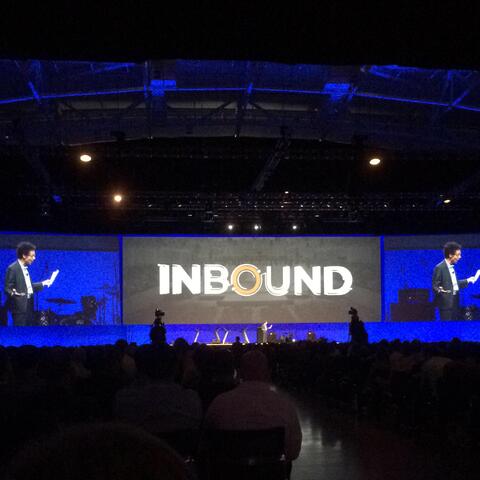 Malcolm Gladwell presents a keynote at #INBOUND14.
#INBOUND14, as almost 10,000 of us in attendance came to know it, is the world's largest Inbound Marketing conference, featuring over 170 sessions focused on the newest marketing strategies by great presenters. The program ranged from the inspiring to the educational, while plenty of social and exhibition options made it possible for five of our team at Austin Lawrence to enhance our skills and make the connections necessary to transform and grow our clients' businesses.
Growing is Helping.
When companies grow organically, good things happen. Three #INBOUND14 presenters deserve special mention for capturing what makes Inbound (or Content) Marketing so exciting. Keynote presentations from management and marketing gurus Simon Sinek, Malcolm Gladwell and David Meerman Scott made the case that growth, content and branding have come into their own as marketing disciplines… and this is really an exciting time to be a marketeer because today, we can be in control of our message. We are able to craft and deliver our customers' experience in new and innovative ways. We can deliver more cost-effective revenue growth results for our companies and our customers.
Here is a brief take on these three presenters' inspiring keynotes:
WHY SOME TEAMS COME TOGETHER AND OTHERS DON'T
by Simon Sinek
Humans haven't really existed in teams of more than 150 until recently. Today, we are able to scale as never before. Simon outlined a vision for creating a growth-marketing environment in which people work as they were designed – by collaborating to confront danger, seize opportunities and do remarkable things. These conditions are wired into us going back to the roots of mankind. When people do good things, are valued by their organizations and feel like they belong; they thrive. As content marketing leaders, these are conditions we are responsible for creating.
From Simon, we learned leadership is a growth requirement.
DAVID & GOLIATH: THE POWER OF THE UNDERDOG
by Malcolm Gladwell
Presenting material from his latest book, David and Goliath, Malcolm examined how underdogs, misfits and visionaries can change the world when they are relentlessly determined and don't take no for an answer. Vision and disagreeableness -- not needing the approval of others -- get results; sometimes in ways that change the course of human events and sometimes for our customers -- one at a time.
From Malcolm, we learned that anyone can be a growth catalyst.
THE NEW RULES OF SELLING
by David Meerman Scott
David has expanded on the idias in his first book The New Rules of Marketing and PR, to take on selling in today's digital commercial landscape. Whether marketing, PR, sales, or customer service, companies today need entirely new skills to succeed. They need to think in terms that their audience will embrace and respond to. To grow, you must educate and inform and sometimes even entertain the customer. Unfortunately, many organizations still use traditional sales and service models developed for a different time. They do not leverage the new online tools available to them, giving more nimble competitors an edge.
From David, we learned that size and capital do not matter alone. Customer experience and service ingenuity are what matter to growing sales in a connected world.
From all three of these presenters, we learned that GROWTH is a uniquely human endeavor that we can affect. #INBOUND14 was an empowering experience that gave us new ways to think about achieving our personal and professional goals.
We are ready to grow after attending #INBOUND14. And we are ready to help you grow, too.
Would you like a free assessment of your Inbound Marketing opportunities? We have helped many B2B businesses and would be pleased to provide objective guidance for yours. We offer a free Inbound Marketing Assessment that will help you think through a content marketing plan to turn your Website visitors into customers.
Just click the button below, and you'll be on your way to more Website traffic, leads and sales!