We hosted an awesome #The Brand Publisher series episode with Brynne Tillman on Tuesday. For those who missed the show, here are the insights and key takeaways from her presentation. We kept this synopsis to a short 3-minute read for busy bees like you. You can also watch the playback and download the slide deck by clicking the image below.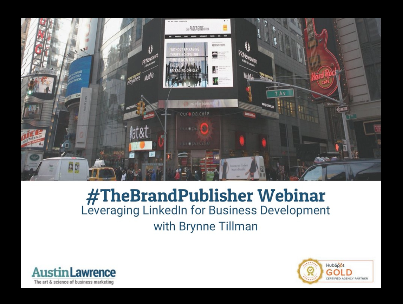 Marketers and brand publishers have great influence on how their content is consumed -- including distributing via Sales. Marketers can take the lead for content that salespeople can share to their target audience personas or communities on LinkedIn. Sales can embrace Marketing's content by having great profiles and sharing content in a more programmatic fashion. Here are some great tips from Brynne's presentation and our follow-up discussion with her.
Brand Presence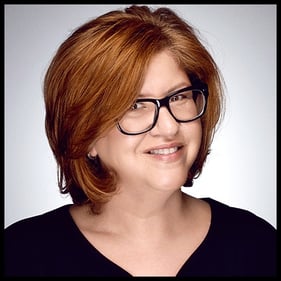 Make your profile content lead to your solutions, not with your solutions. The goal of your profile is to get you more calls with the right people. Projects and publications that you include in your profile also help in SEO.
Is your profile buyer-ready? Three important things to remember when creating your LinkedIn profile to make it a useful resource rather than a standard resume:
Lead with challenges that your prospective customers face.

Give your customers homework—things they can do today to get started.

Create calls-to-action.
Prospecting and Engagement
Distribute smart. Don't just connect and then forget. And don't just share on your feed. The best use of content is in one-on-one conversations. Identify what your prospects care about and tailor your sharing as part of a conversation. Share the value of your content to your connections and to people who are reaching out to connect with you.
Also, identify who your customers know and leverage LinkedIn for targeted business referrals. It helps to establish a regular routine of looking at connection requests.
Content
Great content is always better than volume of content. Quality versus quantity.
Build a Playbook:
Create scalable profile elements, templates, headline, banners, summaries, etc.

Put together messaging templates (welcome, introduction, etc.) to help sales reps do their jobs more efficiently.

Put together a daily cadence that is measurable and tied to KPIs (vs. random social promotions)

Have an employee advocacy tool repository or a set of resources that your employees and sales can share to their respective networks.
Your blog and landing pages are excellent homes for your content, but think about whether it is appropriate to share gated content. Sometimes it may not be appropriate to make someone fill out a form.
LinkedIn Myths Debunked
Myth 1: If you connect with a ton of people, it's better.

Myth 2: I only connect with people I know.

Debunked: There is something in-between. It's important to engage with the right people on LinkedIn.
Yes, social selling is about sharing content. But contnet isn't enough. Don't just put it out there. The best pieces of content (think print-worthy!) give credibility and help build interest, but the job of social selling is building relationships. Avoid starting shallow conversations but rather use your content to start better and deeper ones.
People like to buy from people they know and trust. Content is a powerful way for people to get to know you. But trust is built over time. Social selling is a step beyond content marketing, but content marketing is a key component of social selling. When the time is right, you can ask for a call and start building real conversations in the physical world that lead to rewarding business relationships.
Best quote of the day:
"Sales Navigator for Corporate is like a gym membership. If you pay for it and don't show up everyday, you're never going to get in shape. Learn to use it the right way." ~ Brynne Tillman
.
Making Great Content for Sales to Share on LinkedIn
Owning a media property like Chief Packaging Officer and KLAFFStyle Magazine has helped our clients promote thought leadership and powerful sales enabling content. Learn the elements of great content publishing using Inbound Journalism, our methodology for brand publishers that you can use to build a winning ROI-driven business case for your content marketing.
You might also like:
#TheBrandPublisher Webinar 3/2/17 – Panel Discussion with the Team that Conceived of and Managed Chief Packaging Officer for Kodak