I get a queasy feeling in my stomach every time I make a media buy for a client when lead generation is the goal of the exercise. Unless the deal is pure cost-per-action or cost-per-lead, or we are repeating a buy, we just don't know what the outcome will be. And my relationship is on the line. As trusted advisor, clients look to me and my agency to guide them to make good investments in marketing. And sometimes I just can't be sure.
We've recently been buying sponsored emails from reputable publishers to generate leads for a client. The last time we sent out an email I remember thinking to myself, "I hope this creative works... and that the dogs eat the dog food." It's a tough place to be, especially when we're still in the trial stages of media buying. We don't know which creatives / offers work best with which media properties. There's a fair amount of waste as we work through our creative ideas. And I hope that the client sees worthwhile results. It pains me to think that after negotiating the best deal on the most likely-to-perform media properties, I'm left with hope.
Contrast Outbound Hope with Inbound Certainty.
Contrast this scenario with Inbound Marketing services we provide to this client. Hope doesn't enter the equation. We have a good idea of who we are trying to attract to the Website, as we've built detailed and realistic personas for each customer archetype. So armed wtih a strong set of personas, we have and are building content and offers that appeal to these customer types at each stage of the buying cycle (top-of-funnel, or ToFu, middle-of-funnel, or MoFu and bottom-of-funnel, or BoFu in HubSpot-speak).
We have landing pages with forms and calls-to-action on our blog and throughout the site to drive lead generation. We communicate with leads after they download content or ask for a sales call (lead nurturing). And we can measure everything and adjust as we go. In just a few months, the economic model has been fleshed out for Inbound Marketing, and as hoped, the ROI is greater than we estimated during the Inbound Marketing Assessment (a free service we provide to all prospective customers).
The media buy, on the other hand, is pretty much a "load, fire, aim" kind of exercise. We buy up a lot of email sends, spew our message out there and wait to see what happens. Sometimes we get it right and the results are encouraging. But when we get it wrong, we've blown 20, 50 or 100 thousand email sends and have little to show for it. We hoped it would work. But, it didn't.
We still have success with outbound marketing, don't get me wrong. It's just that if I were a CMO or field marketing executive I'd be asking hard questions about my outbound investments while at the same time being certain that my inbound marketkng programs were fully budgeted and plans fully realized.
If I had to choose between hope and certainty in my personal life, I'd probably choose hope. I'm a romantic at heart. But when I am spending marketing dollars, I greatly prefer the sure thing. How about you?
Gain some certainty as you plan online marketing for 2014.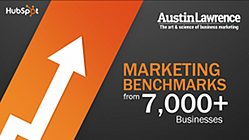 We have a great new eBook on the math behind Inbound Marketing. It provides hard figures on the impact of blogging, landing pages and social media on Website traffic and lead generation. Not surprisingly, the more you have of each, the more traffic and leads you get. But the nuances of the data will surprise and delight B2B and B2C marketers whose job it is to generate leads. Armed with this research from more than 7,000 Websites, you can confidently predict the future of lead generation based on the content you put out there.