I believe in thought leadership. Really, I do. But this kind of marketing is often managed as a pet project or viewed as being somehow outside the new norms of ROI-based marketing. The problem for everyone who builds and cares for content marketing where ROI is not tracked is that one day, sooner or later, a CFO-type will come in and ask, "why are we doing this and what does it contribute to the bottom line?" And then the ax will fall. I've seen this movie before and it doesn't end well for any of the actors, client-side or at their agency.
Content marketing should aim for thought leadership while paying for itself through the application of Inbound Marketing best practices.
That doesn't mean that you can't champion a content marketing initiative that aims high. You can build a magazine-like Website, have multiple contributors / bloggers, hold online events and more. Just do it with a buisness purpose in mind that can be measured in terms of revenue contribution. For that, you need to adhere to the principles of Inbound Marketing: build your entire marketing campaign around your target personas (fictionalized profiles of your customer types); put premium content behind landing pages that require site visitors to make themselves known to you - and make your content compelling enough that they freely do so; create a nurturing set of emails that continue the conversation, offering deeper content that drives your leads down the sales funnel; and, integrate the marketing Website with sales force automation so you can report your successes to management.
Many CEOs and marketing executives we speak with are more focused on their inability to generate traffic or create compellng content than linking content marketing to a business plan. They've been convinced that thought leadership will, by itself, help drive sales. And in some limited (and diffiicult to measure way) it will. You just won't know who's reading your stuff, what value they have as site vistors or what types of content and engagement works best for your target personas.
The way to make content marketing pay for itself is to put Inbound Marketing principles to work:
Know who your best customers are and serve their specific needs on your Website
Create a steady flow of content that brings target customers to your site via SEO and social media referral
Create premium content and engagement opportunities that compel site visitors to provide their credentials
Nurture leads with content until they are sales-ready
Measure ROI by having sales close the loop so you can report the value of content marketing
Want to know how to start on the path to measurable ROI from your content marketing initiatives?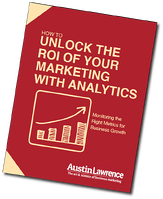 Download our eBook on marketing analytics. It will put you on the path to measuring the value of your content marketing strategy. And that's a good thing.