A few weeks ago, Rae D. Rosen, vice president and senior economist at the Federal Reserve Bank of New York, was the keynote speaker at an event I attended. While almost none of the world economies escaped being clobbered by the economic recession in 2009, studies show the USA is now slowly recovering and we should prepare for growth. She notes 2013 was not great, but some growth in spite of headwinds. 2014 will be slightly better and 2015 even better.
Her presentation got me wondering about my profession, marketing, would fare. How is the recovery going to affect marketers and what should they be doing to position themselves for success? The answer I found was quite interesting: Sales are starting to grow again, marketing budgets are increasing, but be prepared to go to market in a whole new way than before. You had better have an online strategy, because your competition likely does. The good news, not only does online offer the opportunity to fill your pipeline with more targeted customers, but to do a better job managing the deal flow with less resources for a better ROI.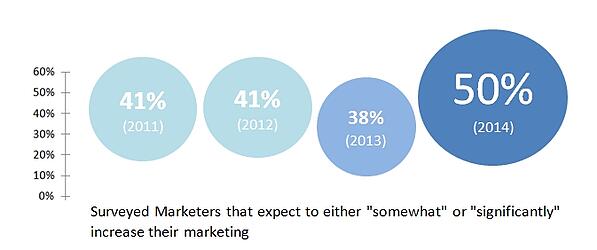 In its latest survey findings published as, "The 2014 Agency-Marketer New Year Outlook Report," RSW/US says US marketers surveyed plan an increase in marketing spending this year. RSW/US, an outsourced lead generation & business development firm for marketing agencies, carried out the survey with 150 senior level marketers and 170 marketing agency executives during December of 2013.
Fifty percent of Marketers surveyed say they expect to either "somewhat" or "significantly" increase their marketing (as compared to only 38 percent in 2013, 41 percent in 2012 and 2011). Only 27 percent of marketers think their spending levels will decrease in 2014. Also according to the survey, 60 percent of marketing agencies said their brand marketing counterparts were expected to increase budgets in 2014. U.S. spending in major media advertising and marketing services for 2014 is projected to reach $390 billion, a 3.2 percent increase from last year, according to the global media network, ZenithOptimedia.
Amidst this positive outlook, marketing and advertising markets continue to go through tremendous change tipified by how the marketers allocate their ad spending. The rise of digital, online, mobile and the like have been breaking new ground with fast growth for twenty years, though on a small base. Today, the numbers actually mean something.
Since Internet advertising began in the mid-1990s, Internet ad spending has risen largely at the expense of print ads, according to ZenithOptimedia. In 2012, the Internet became the nation's second-largest advertising medium after television with its share of global advertising rising by 17 percentage points. Newspapers' share of ad spending meanwhile fell 13 points and magazines' share fell by 5 points during the decade between 2003 and 2013.
ZenithOptimedia expects the Internet to account for 24.6 pecent of U.S. ad spending in 2014, and 26.6 percent by 2016, up from just 6 percent as recently as 2005. Display is the fastest-growing sub-category, with 19% annual growth, thanks partly to the rapid rise of social media advertising, which is growing at 28% a year. Paid search is expected to grow about 14 percent a year through 2016, in large part from innovation by search engine companies in area such as, the display of rich product information and imagery within ads, localization of search results, and mobile ads with click-to- call and targeting based on location.
Mobile advertising is now the main driver of global advertising spend growth. Worldwide mobile advertising is estimated to US $13.5 billion in 2013, representing 13.1 percent of internet ads and 2.7 percent of all advertising media. By 2016 they forecast this total to rise to US $45.4 billion, which will be 29.0 percent of internet expenditure and 7.7 percent of all expenditure, notes ZenithOptimedia.
ZenithOptimedia also forecasts mobile and desktop internet to contribute fully 61 percent of ALL the growth in advertising spend between 2013 and 2016. Mobile advertising is predicted to grow by a whopping average of 50% per year between 2013 and 2016, driven by continued rapid adoption of smartphones and tablets. By contrast they forecast desktop internet advertising to grow at an average of seven percent a year. Meanwhile newspapers and magazines will continue to shrink at an average of one to two percent a year.
One other piece of the puzzle is the power marketers have through the power to control our own media destiny. The medium is the message, as Marshall McLuhan famously noted. Today's multichannel world of social media being far less filtered by editorial governance means that we control the distribution of our content. The closed loop communication systems we design, transactional in nature, and the metrics we have enable an unprecedented level of management and achievement.
Is it any wonder that in the recently released B2B Content Marketing 2014 Benchmarks, Budgets & Trends - North America by Content Marketing Institute and MarketingProfs it is stated that 58 percent of B2B marketers plan to increase their content marketing budget over the next 12 months, and on average, 30 percent of B2B marketing budgets are allocated to content marketing.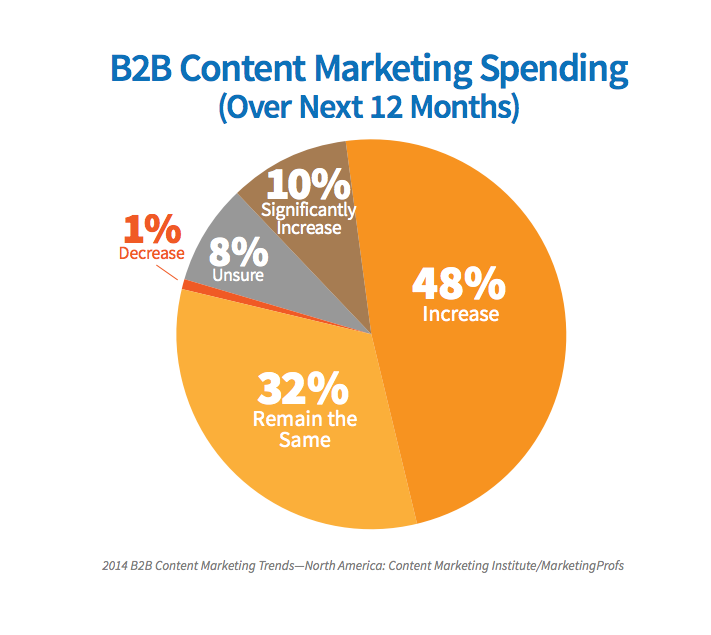 Clearly, we marketers are in the middle of a sea change. Filling the pipeline with qualified prospects is foremost among our responsibilities. With the business environment picking up steam and growth in online marketing expected to follow, the use of marketing automation tools to better track campaigns and measure ROI will increase in importance. Inbound Marketing as a discipline is increasingly important in the marketer's toolkit to cost-effectively manage building a pipeline of new customers. If you would like a free Inbound Marketing assessment of your B2B online marketing, please let us know.
Good luck and happy marketing.