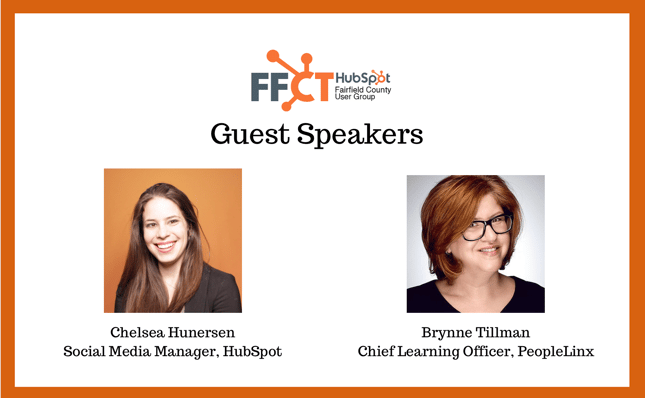 A big thanks to everyone who joined us for last week's Fairfield County HubSpot User Group meetup!
Guest speakers Chelsea Hunersen (@ChelseaLikeNY) and Brynne Tillman (@BrynneTillman) were greeted with a roomful of listeners eager to learn the most effective tips and strategies and for selling on LinkedIn and Facebook.
Brynne walked through the must-have elements on a sales-oriented LinkedIn profile. Attendees learned the most effective and professional ways to reach out to new connections, as well as the best practices for sharing content. To sum up Brynne's presentation, effective LinkedIn content attracts, teaches, and engages the buyer audience.
Chelsea showed the audience how to construct a business page that cuts through Facebook "noise." HUG attendees learned that Facebook is a good platform to experiment with new marketing tactics. Chelsea shared several illuminating stats, such as the fact that Facebook video posts have a 135% greater organic reach than photos do. Chelsea urged the audience to play with post type, subject, posting time, copy and any other Facebook element to see what works and what doesn't.
Attendees were eager to connect with our speakers and learn more. Our thanks to Chelsea, Brynne and everyone who came out and made the event a success.
Chelsea has shared the slides from her presentation, and we'd like to pass them along to you. Click here to download her slides with added annotations (PDF, 26.13 MB).
Also, we encourage our readers to connect with Brynne on LinkedIn and let her know you're interested in the PeopleLinx guided social selling platform.
Finally, registration for the next Fairfield County HUG, which will focus on SEO, is open, so sign up today!