#TheBrandPublisher - A conversation with:
Dennis Reaves
Former Kodak Division GM
The Chief Packaging Officer team L-R: Keith R. Reynolds, Dennis Reaves, Kenneth Lempit, Ellie Becker
Chief Packaging Officer was the first Inbound Journalism industry media property. The initiative generated hundreds of leads in less than a year from a standing start, created a commanding voice in the packaging industry and boosted the enterprise value of Kodak's DESIGN2LAUNCH division by
16x more than an offer two years prior -- resulting in the sale of the division.
Read #TheBrandPublisher recap, or access full playback of this fascinating round table discussion featuring the GM's take on why running your content marketing like a publisher makes great business sense.
This Austin Lawrence webinar (3/2/17) offers an insider's look at a success story for Kodak, a brand that was suffering from the effects of bankruptcy in 2014. This effort also gave birth to Inbound Journalism, a new and better way to use content and industry news to create pipeline and enterprise value. This webinar is a panel discussion on the lessons learned and past, present and future of Inbound Marketing.
To generate leads, Kodak DESIGN2LAUNCH,the Kodak division that sponsored the initiative, and Austin Lawrence Group knew they had to take a bold approach toward building the well-known brand's new B2B packaging portal. Chief Packaging Officer surpassed expectations as the epicenter of this high-profile, post-bankruptcy go-to-market campaign. The team that built Chief Packaging Officer reunited to share how they opened a dynamic sales pipeline and ultimately contributed to the sale of DESIGN2LAUNCH.
ROI and Value Creation
Through the creation of this premier media property to draw the audience in, the concept of Inbound Journalism—marrying up brand publishing with thought leadership and ROI—was born. Without this direct connection to ROI, marketers often find their content marketing programs are vulnerable during every budget review or change in leadership.
This webinar is about running a marketing initiative that has proven ROI. Topics covered:
A new McKinsey Quarterly article: "The new battleground for marketing-led growth"

"In the digital age, consumers are always shopping around. New research shows that hooking them early is the strongest path to growth... Build a pipeline of innovative product, service, and brand news"

Six Key Elements that made Chief Packaging Officer a success
Why thought leadership and how to get it into your marketing program
The state of content marketing and brand journalism
How to convert your audience to customers
The impact of editorial strategy on social media tactics
Brand publishers' journalistic integrity in the age of fake news
The brand as publisher: a new business model based on a source of revenue and enterprise value
We began by discussing new views from McKinsey about the market demand for news quality and content.
"In the digital age, consumers are always shopping around. New research shows that hooking them early is the strongest path to growth... Build a pipeline of innovative product, service, and brand news."
- McKinsey Quarterly
We also reflected on the development of the first Inbound Journalism site and share examples of using our Six Key Elements model to achieve Inbound Journalism success: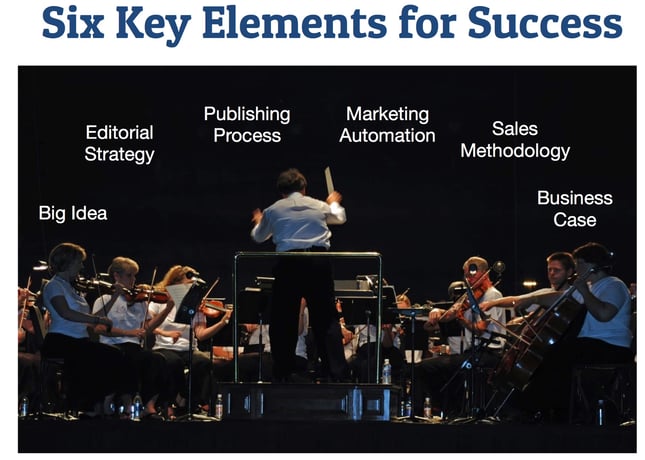 It Starts with a Big Idea
Chief Packaging Officer was built on a big idea. Packaging is deserving of a seat at the table. This insight was gleaned from our persona research.
In the webinar, Dennis Reaves describes how the audience didn't go to the Chief Packaging Officer website for our specific product (packaging workflow and digital asset management enterprise software). They came for thought leadership, which, done well, would not be described as "Thought Leadership." It just connects. The Chief Packaging Officer media property was a catalyst for bigger, wider-reaching topics that directly affected the [packaging] industry itself. Publishing and distributing this content was made scalable by an editorial strategy and data-driven by marketing automation tools. Dennis noted, "Our process-driven methodology helped us execute tactics that follow specific editorial standards and strategic distribution that influenced various decisions within the industry."

Check out this powerful visual representation of our North Star idea in relation to marketing activities along the customer journey: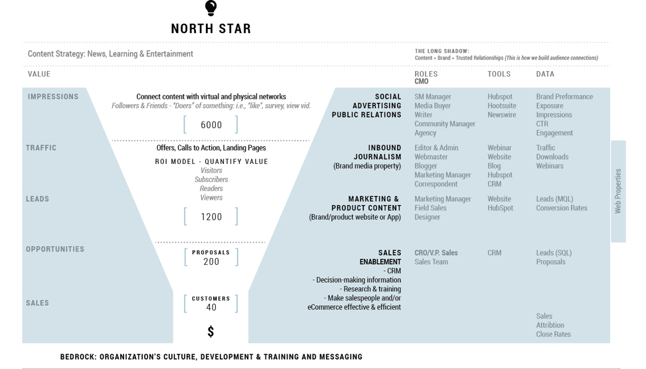 In the end, working with the DESIGN2LAUNCH team, we at Austin Lawrence came to see the "brand as publisher" strategy offered not just a pipeline of leads, but a new business model that builds enterprise value.

In addition to the halo effect of industry recognition so critical as his division of Kodak prepared to go to market post bankruptcy, Dennis Reaves describes how the value of the enterprise also increased by owning a media property. The mission went above the call of 'selling' because the stories that the team pushed out to the audience tied directly to needs identified in early persona research. Competition was boxed out and the reaction was almost immediate. Kodak was back in the market in a big way after a long hiatus.
Kodak had shopped the DESIGN2LAUNCH division and received no viable offers. Dennis releayed that as his DESIGN2LAUNCH team was able to maintain their base of tier I customers, cut significant overhead and launch CPO while Kodak worked things out with the turn-around, he was ultimately able to command a 16x increase in valuation when the company division sold, as compared to a previous offer two years prior.
If you missed our March 2nd #TheBrandPublisher Panel Discussion, watch the full story here.
If you want to discuss how a well targeted initiatiative might help you achieve your goals give us a call. We'd be glad to discuss your needs.
Related posts:
Case Study on Kodak's Chief Packaging Officer: Taking Content Marketing to a New Level
How Inbound Journalism Improves Sales Productivity and Effectiveness
How Inbound Journalism Connects Thought Leadership to Sales Outcomes and ROI
Think Like a Publisher: 6 Ways To Drive Lead Generation and ROI
---