SaaS software reviews should be in every marketer's toolkit. Benefits include cost-effective inbound lead generation and neutral-ground user feedback.
Software marketers responding to changing buyer demographics and resultant behaviors are embracing review sites like Capterra, Software Advice, Peer Insights, G2 Crowd and Trust Radius. And these sites are big business, with Gartner investing more than $300 million to acquire two of its three entries in the space in 2015 (Capterra, Software Advice).
Our advice to SaaS providers is to test these sites and see how they perform for lead generation; assuming you have a user base, you can be certain you'll generate reviews. Most software review sites have low- or no-cost options to get started, and as long as your software is well-liked by your customers (you do have this data already, right?), you should do just fine in terms of review content.
For young companies, reviews can be an important validator as buyers consider their options. Your SDRs can also use links to review sites to help them stand out from competitors and book those critical first appointments. Proactively managing reviews is a tangible way that marketing can support sales, providing you with a little bit of political capital when you ask for help from the sales team. The reviews are also an important way to collect user feedback, though the downside is that it is being posted in the public square.
Perhaps the easiest place to start is with G2 Crowd and its freemium level of service. You'll be able to add and edit your product information, collect reviews and even get a handful of leads per month sent to your CRM (currently 4 per month are free). G2 has subscription options that most SaaS companies can afford, and based on our clients' experiences, the quality is pretty good. G2 lead quality is comparable to other inbound leads, though they don't come in high volumes for some categories, something to keep in mind in terms of how much you can achieve there if your average contract value is on the low side.
Capterra, GetApp and Software Advice share a reviews engine powered by Capterra, so it's possible that your listing and reviews might appear on all three, depending on your software solution and how Gartner categorizes it. You can start with a free listing and enhance your returns with a PPC model for generating additional leads. Gartner is most well-known for its enterprise client base, but middle market solutions do just fine on its review properties.
Gartner's Peer Insights is integrated with its main analyst and publishing business, essentially acting as a user-generated add-on to its famous magic quadrant. Amazingly, you can also start for free on Peer Insights. As important, Gartner indicates that its analysts may consider Peer Insights content in preparing their reports, so if you are able to get a groundswell of customer content on Peer Insights, you may very well find this represented in future reports.
Once you're on a review site, you should encourage your customers to review you! It's pretty easy for a SaaS company. You can place links within your application or on your logout / thank you page. See below for an example from Zoom. Customer success and service reps also can send links out after they've completed calls with customers. You can even put a review request in your customer success email cadence.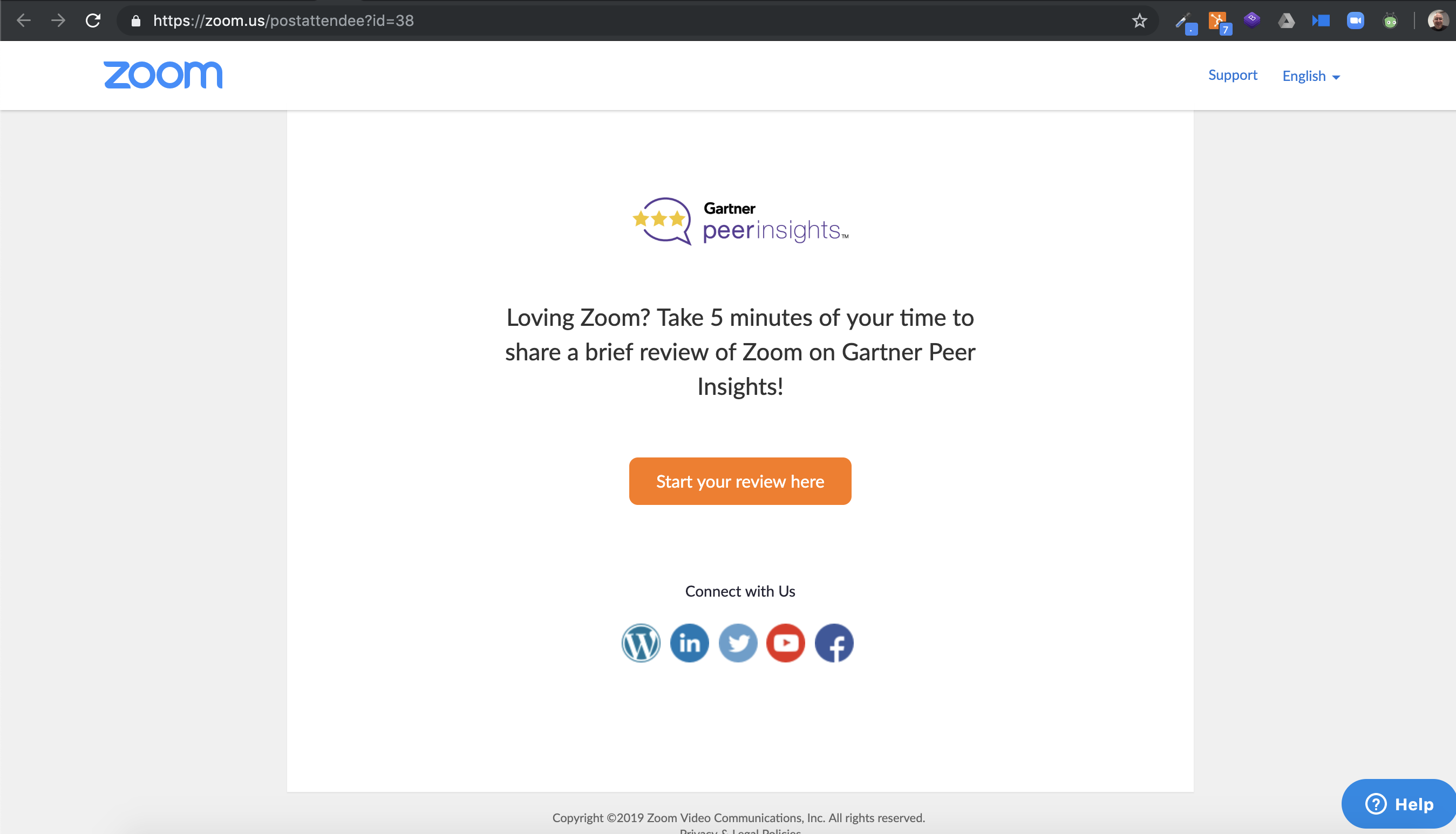 SaaS software reviews can be generated on your post logout page.
The only downside to software review sites comes when your product has unresolved bugs, its falling behind competitors or your customer service is weak. Your dissatisfied users are the ones more likely to post, and those negative reviews become part of the public record for all time — that's good motivation to ensure your act is together.
Software review sites are unlikely to become your main source of inbound leads, but they are a good one, and every B2B software marketer should make the time to check them out.
Have any experience with software review sites that you'd like to share? Feel free to comment below or send me an email at kl@austinlawrence.com.