Toward the end of the hip new musical Here Lies Love, as Imelda Marcos looks out over the protestors in the streets of Manila, she sings out from her heart a song entitled 'Why Don't You Love Me?' It is a mesmerizing moment.
How does Inbound Marketing compare to a David Byrne rock musical?
Excellent question, and here's how: time and again we hear from prospects, "Why don't they come to my Website?" In essence, "Why don't they love me?"
And once they get to your website, they don't find it fascinating enough to stay long or engage further.
Here is why they don't love you: you don't have compelling, exclusive, and downright contagious content to make them want to enter your world and engage.
Cue the Inbound Marketing experts to create offers and produce content online that will generate leads
Much of our own engagement with potential clients involves an Excel spreadsheet that models what engagement might look like as we attract and engage prospects: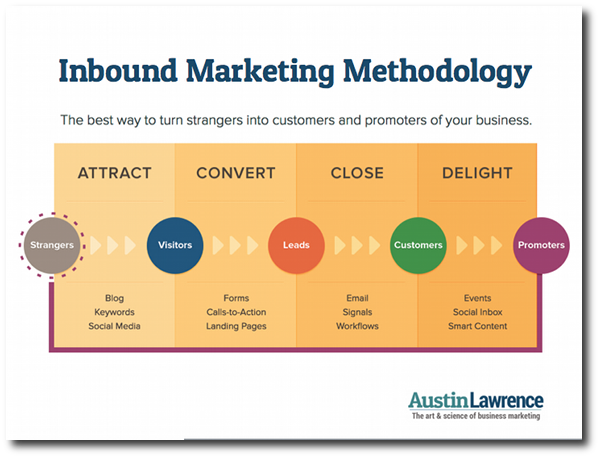 Sitting with a potential client recently, we reviewed the sequence of steps in the Inbound Marketing process and how it might look with their own data. Then, he asked, "How do we get them to the Website?"
In other words,
He was comfortable with the ROI model
He understood the inputs, e.g. landing pages, premium content, gatekeeping forms that capture contact details, and so forth.
But he didn't know how he would drive traffic to his site to capture the leads
As a B2B content marketing firm laser-focused on lead gen and improving sales, we work from an Inbound Marketing playbook that combines six strategies to increase sales leads:
Develop a deep understanding of our ideal buyers' personal and professional characteristics—expressed through generalized profiles we call Personas
Keyword research that helps us understand the search behavior of Personas and relative value of search terms of interest to us
Offer premium content at every step of the buyer's journey, and
Sculpt that content to be supremely attractive to our Personas
SEO optimization, on-site and off (making your site as friendly as possible to Google and other search engines) to increase Website traffic
Twitter and LinkedIn engagement and promotion of content to drive traffic to our offers
Top of the funnel offers may be a case study, or a checklist. Once a prospect becomes a warm lead, they no longer care about an anonymous case study. Middle of the funnel offers include a benchmarking report, a playbook of some kind or a webinar. At that point, as we send enticements to keep our client front of mind, a bottom of the funnel offer provides the hook. This could be a configurator of some kind that allows careful calibration of costs or perhaps a model RFP to help drive decision-making. At the bottom of the funnel, a prospect is thinking, "I know I want it, I just want to know who I will get it from."
The deep dive of how a landing page looks and what a sign-up form does
When a prospect comes to an Austin Lawrence landing page, they might see a video that is carefully scripted to match the issues and motivations that a prospect experiences. Every word, every gesture, every camera angle and all aspects of the video production have been carefully considered to ensure it looks and sounds top-notch. This video is short and compelling, and will play properly across all platforms and devices.
In the case of our prospective customer, we said, "Let's look at particular example."
We had just published this new marketing program for our client, the media monitoring firm, TVEyes. In this "middle of the funnel" offer promoted to our universe of known prospects, we promise a free kit: How to Make Media Training More Effective with Broadcast Monitoring & Search, if the respondent shares contact details. This exclusive offer includes video advice from TJ Walker, "media trainer to the stars," on how to use real-life examples in your next media training.
There is a two-minute video pitch by TJ to engage the site visitor to download the kit: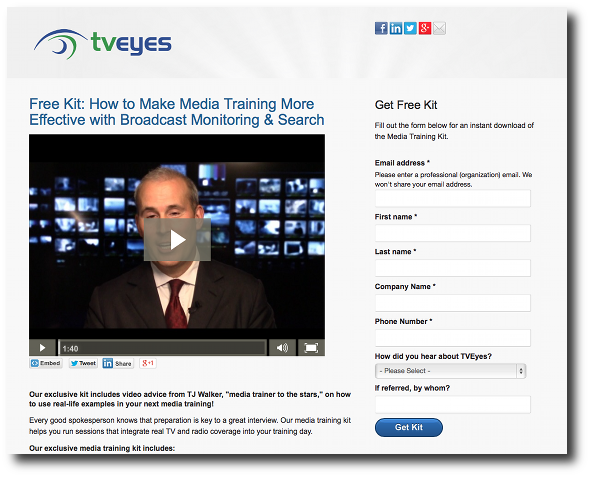 The media training kit also includes:
TVEyes Tipsheet on how to use broadcast media monitoring in media training

Exclusive video by TJ Walker of Media Training Worldwide with advice on how to use media monitoring in training situations

TJ Walker's "Media Training A-Z," a complete handbook on media success

TJ Walker's "Media Training Success: How Anyone Can Become A Media Pro In 20 Minutes," essentials of TV interviews for busy executives
When a prospect goes ahead and fills in the form, the kit is immediately available on the "thank you" page that appears after they hit "submit," and to be doubly sure, it also is offered via email, with a click-through to directly download PDFs and view the video.
Check it out… Click here. The kit looks and reads a cut above the typical output of the maddening horde. It shows off the client's knowledge in the best way possible. The feedback so far is that this kit is not only useful, it is also "epic."
This is just one example of how Austin Lawrence offers premium content to generate b2b sales leads. We help craft the offer, make arrangements for all the media production and setup the entire program on HubSpot.
You too, can go forth and offer premium content. You can develop buyer's personas and talk directly to your target business market online. You can make offers that leverage your industry relationships and tell them why prospects why should come to your site and engage you. Whether you do it or we do it, it is the right way to handle lead generation.
And, yes… they will love you.
Want to learn how you might create content that drives b2b leads from your Website? Just click below for our free Inbound Marketing Assessment. We'll help you understand what's working and what isn't on your Website and how it can be a more powerful contributor to your profitability.