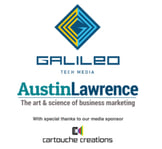 Austin Lawrence is proud to sponsor and present the New York Inbound Marketing Professionals Meetup, a platform agnostic working group for inbound marketing professionals. Regardless of your inbound marketing software the NYIMP provides a venue to share best practices and ideas while learning from expert speakers and your peers. Register for the March 9th event here.
SPEAKER: Amelia Ross, Editor-in-Chief for IBM Cloud Content Marketing platform Thoughts on Cloud.

IBM is one of the world's most recognized brands, known for global reach, enterprise solutions and secure technology. But that great global brand doesn't necessarily get a lot of cred in hot new technology markets like the cloud space.
According to Forbes in mid-2015 Amazon, Google, IBM, Microsoft and Salesforce.com are the top players. By some accounts, IBM is in a respectable third place in this crowd—and growing—with 2015 revenues reported to be $10.2 billion, up 43% from the prior year. So, how does IBM capitalize on its unsung "player" position to leverage future growth? One of IBM's strategies is to excel in thought leadership using content marketing and it's publication, Thoughts On Cloud.
IBM's lightly branded site provides insights, news, and analysis for the cloud community to raise awareness and generate leads for it's wide range of cloud solutions. Thoughts on Cloud content is provided exclusive commentary from thought leaders and industry experts and supplemented with licensed content from top global technology and business publications.

Some of the things you will learn from this presentation are:
• Key elements of IBM's editorial strategy for the web property
• On-domain vs. Off-domain; relative costs and benefits
• What tools are used and why?
About your speaker
Amelia Ross, Editor-in-Chief for IBM Cloud Content Marketing is an award-winning content marketing professional and editor with in-depth experience developing news sites and content marketing strategies. Her areas of expertise include: editorial content, content strategy, digital strategy, audience segmentation, marketing communications, branding and identity, social media, and SEO optimization. She has held other roles in marketing, journalism and publishing, including personal finance editor for CNNMoney.com.