In explaining Inbound Marketing, we've come to rely upon a four-element diagram to help prospective clients organize their thinking, and it helps us, too. The MTCE model, sometimes referred to by us as the "layer cake," provides a good visual image for management of Inbound Marketing success factors in your business.

The Inbound Marketing Stack categorizes the four key areas of endeavor neatly and serves as a great way to think about what will be needed to launch a new program, or improve your current content marketing strategy. Regardless of how you manage the stack, it is imperative to build a solid team with skills in a wide range of activities to compete effectively.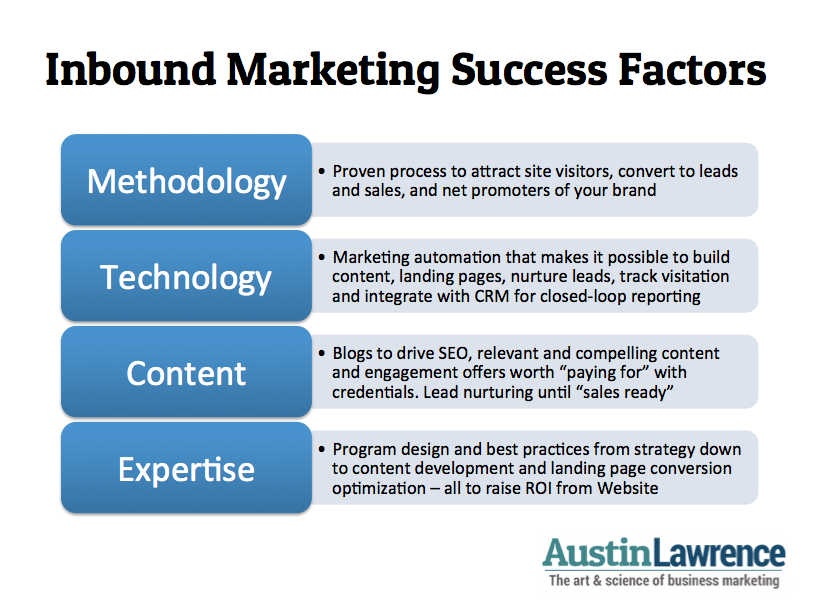 Methodology. Inbound Marketing is a completely new way of thinking about Website relevance and performance, and extends beyond the Web in its impact on company strategy and operations. A full understanding and perfect realization of Inbound Marketing may never be achieved, but you need to invest here to have a successful program. It's not enough to simply protect documents behind landing pages, and email people who've registered on your Website, though these foundational steps will yield some fruit. If, however, you invest in a content marketing strategy with these elements:
Rich "Personas" representative of your archetypical customers
Tight alignment of sales and marketing
A lead nurturing process to harvest your hard won leads
you'll see much a greater return on your marketing investment. A program with these three elements will be based on a holistic view of your ideal customers (to attract, close and delight them) and optimizing your selling process.

Technology. You can implement Inbound Marketing without marketing automation but it's not a scalable approach. There are great SaaS marketing automation solutions available to fit nearly every budget and requirement. We're HubSpot partners and very strong advocates for HubSpot, but it may not be for you. Importantly, if you're already on one of the five or six market-leading platforms, you can probably implement the Inbound Marketing methodology pretty well… as long as you have a good plan and where the software might be limited, bolt-on a better solution for that element (as an example not all marketing automation software enables best practices on landing pages, so you may want to add a hosted solution for landing pages).

For early-stage companies or those with limited budgets, start with something like Instapage or Unbounce for landing pages and a free CRM like Zoho or SugarCRM – or an entry-level marketing automation package like HatchBuck. For those with budget to match their ambitions, the leading contenders HubSpot, Pardot, Marketo, Eloqua, Silverpop, Act-On and InfusionSoft all have a place in the sun as well as supporters and detractors. If you're using or considering any of the leading solutions, please consider taking our Marketing Automation Satisfaction Survey, and we'll be pleased to share the results with you.

Content. You can't do Inbound Marketing without compelling content and for the clients we serve (high tech, professional services, financial services), it really needs to be good to great. This means that writers and producers of content must have domain expertise. If your white papers are naïve, you're sunk. Your case studies need to be revealing about how customers benefit from your solution. Your blog posts need to inform and captivate.

You need to be prepared to blog weekly. Even twice a week to get your traffic numbers to grow significantly (social media is playing an ever-more-important role in traffic generation, too). You also need great engagement offers in the form of Webinars, ROI calculators, etc. The good news? With a plan and a calendar, you can reuse content from one form to another. As an example, your white papers make excellent foundations for Webinars, tip sheets, video and eBooks. In the old days agencies called this "merchandising your content."

One final word about content: We recommend you steer clear of content providers that cannot demonstrate domain expertise and those whose cost-per-blog seems to good to be true. Be authentic. Hire good writers (we do).

Expertise. Done well, Inbound Marketing can be nothing short of enormously profitable. But Inbound Marketing is a contact sport. It takes quite a bit of (continuous) learning to do it well. You need knowledge of and to keep learning the methodology – best practices emerge all the time, and the results as applied to each business are different. If you're comfortable living in an iterative world, it's for you!

Each technology platform is different and mastery takes a considerable time investment, as does integration with sales automation and managing the relationship between these systems. You need editorial skills to build solid content calendars and project management skills to weave it all together. Producers oversee the overall success of communication strategy and digital production.

As you might have heard us say, "Inbound Marketing is a big lift." But, it's also worth it. The potential to achieve your online (and offline) revenue goals is great. Your Inbound Marketing team can provide near-real-time reporting on campaigns and the ROI from your investment to help you capitalize on opportunities.

Implementation Alternatives

From an Inbound Marketing Agency point of view, there are three possible ways to build and manage your Inbound Marketing function:

Agency lead. Your marketing partner has primary responsibility for the entire stack. They build strategy, drive the technology and build the content. As a client, you manage the agency and campaign, review content and focus on strategy. You also likely will be very involved in the negotiations with sales management on how inbound leads will be managed.

Collaborative. In many high-tech or professional services organizations, subject matter experts are willing and very able to build great content. These SMEs are likely already writing for your Website and you're currently giving this content away for "free" by not gating it behind forms and landing pages. Organizations like this may find it pretty easy to migrate to Inbound Marketing because they've already cracked the toughest problem of high quality content.

Solo flight. Some companies have the resources, skills and bandwidth to implement Inbound Marketing on their own with out a service provider / partner. This may or may not be true at your company and could be a risky proposition. According to HubSpot, its clients who work with agency partners churn far less than those who go it alone.

The four key areas of Inbound Marketing Stack help focus your content on customer needs and organize the resources required to implement your online strategy. Managing the stack helps build a solid marketing and media program to represent your business in the digital marketplace, generate a lead pipeline and build a profitable revenue stream.

Want to learn more about Inbound Marketing and how it might benefit your organization? We offer a free Inbound Marketing Assessment that provides a deep dive into the potential ROI you can achieve.