Sometimes there's data outside of HubSpot that you want to get into the system to enrich the quality of your lead data, help with reporting or drive lead distribution in Salesforce.com or another CRM. It should be easy to do (and it is), but there's nothing in the HubSpot knowledgebase on this simple but valuable technique.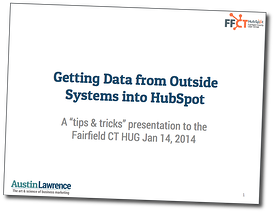 If you've passed a parameter to any form via the URL, you know the basics. You just add a field name after the full URL, after a question mark. An example from our site might look like this: http://info.austinlawrence.com/hubspot-tips-and-tricks-get-data-into-a-form-from-another-system?lead_source=blog+post
HubSpot users familiar with tracking URLs will see this is exactly the same technique but used for a different purpose. In our use case, we want to fill a form field with valuable data from an outside system and place it in a hidden field in the form. We can then carry this data to Salesforce.com and use it for campaign management or lead distribution.
In the free HubSpot Tips and Tricks eBook (based on our presentation to the Fairfield County HubSpot Users Group) offered on this blog post, we demonstrate a real world application: we wanted to drive lead distribution by sales representative. We have a database of thousands of old leads that were sourced by the sales reps over the past few years and we planned to reactivate them with an email campaign managed by an outside email service provider. In addition to the strategy and campaign management support they provide, our ESP doesn't charge by the email address, so the total cost of the program was less than if we housed all these old emails on HubSpot.
So if you're seeking to get data from an outside system into HubSpot via a parameter in a landing page form, please download our HubSpot Tips & Tricks eBook. Let us know if it's helpful!