If you've been responsible for content marketing strategy in any way, you're already familiar with the classic Quality vs. Quantity content debate. Marketers often frame it as a dichotomous question: Is it better to prioritize fewer pieces of quality content or churn out the most content as quickly as possible?
Before you spend too much time ruminating how to balance quality with quantity, it's important to take a step back and realize that each piece of content should serve a larger strategy. The overarching goal is to gain deep knowledge of who your prospects are and how to reach them at each phase of their buyer's journey.


Quality is Key in B2B Inbound Marketing
Here at Austin Lawrence, we often work with clients who sell deeply technical and/or niche products and services. Companies in less-complicated industries might be able to afford publishing more "general audience" material, but a complicated proposition demands well-researched and well-executed content.
Buyers from highly technical fields — for example, engineers with committed interest to deep mathematics-based business problems — are . Content is your brand, and publishing poorly written or outright inaccurate information results in a poor takeaway that could damage your reputation and sales prospect with prospects. Content for the sake of content is not worth publishing if it makes the company seem inexpert.
We service B2B firms in highly technical fields where the content needs to be excellent in a number of areas. Thirty-five dollar blog posts from a content factory will not serve a company in these businesses. In reality, a professional writer or subject matter expert can easily charge $1 or more per word or as much as $1,000 for a blog post. Highly technical fields (think telecommunications, cryptography, etc.) usually demand content that demonstrates expertise in three domains:
Industry knowledge – The history, trends, legalities and major news of the business.
Theoretical knowledge – The innovations, math and science behind the industry.
Practical knowledge – How to apply information to the business problems of potential buyers.


The Quality Content Curve
Producing quality content entails investing more time and money, but the returns are worth it. We experienced this firsthand when we built the content stack on Chief Packaging Officer. As it turns out, it took a great deal of study to become a competent reporter on the packaging industry. Our content marketers researched the industry for several weeks in order to report on the subject material. Even curated articles presented a unique learning curve, as excellent curation requires the writer to spot industry trends and make new connections between stories.
Creating excellent content – working up to speaking with the authority of a thought leader – requires journalistic skills. Even fully-capable, well-established technology writers sometimes need prep time to gain knowledge in a niche area.


Lack of Quality Will Cost You
Some time ago, B2B marketers didn't think they could or needed to be publishers. But with the dramatic decline of trade media, we are compelled to become publishers – our brands are being carried into the market on the back of our content. Whether the content exists on a standalone thought leadership media property or a blog on your main site, visitors are using it to evaluate a brand's subject matter expertise and desirability as a vendor.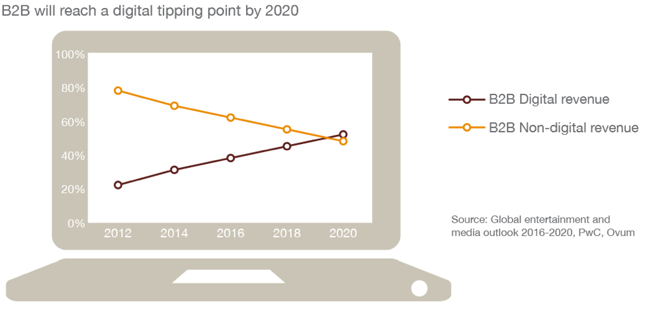 from pwc.com
B2B buyers continue to do more research online before reaching out to sales or even downloading a gated resource, which means that content is the best opportunity to influence buyer behavior. According to Accenture, 94 percent of B2B buyers report that they conduct online research before purchasing a product, and 55 percent conduct online research for at least half of their corporate purchases.
Shabby content is not just valueless for B2B firms, it's outright harmful. If you are not investing in content at a professional level, it's going to cost you sales. If you can track returns on quality content, you can also track lost sales due to injurious content. Invest in what brings value – quality content that establishes your brand as a thought leader.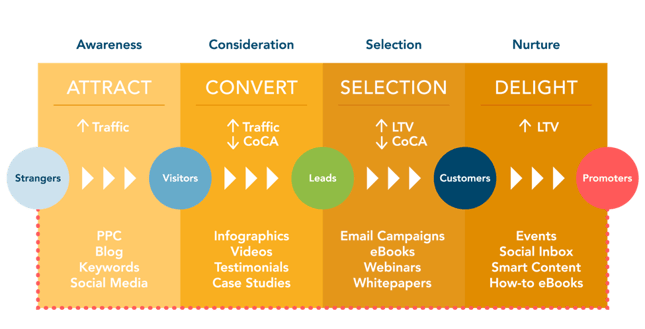 Think of content strategy like you would an investment portfolio – it should be designed to reduce risk in your sales process and maximize return. The idea is to allocate your content resources across all stages of the buyer's journey. Different types of content work best in each stage. For example, blog posts work well at the top of the funnel, or "awareness" stage, whereas free assessments or model RFPs work best for buyers at the bottom of the funnel, where they are getting ready to purchase.
Want to learn more about how content can contribute to the achievement of your goals? We're pleased to offer a complimentary, one-hour consultation to qualified firms, during which we discuss your brand's messaging and how everything else — including content — drives to revenue.