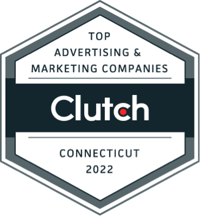 For nearly four decades, the Austin Lawrence team has helped businesses find their voices and rise to the top of their respective industries.

In the past decade, we've repositioned from traditional integrated marketing communications to growth marketing for SaaS firms, helping our clients accelerate growth through lead generation, demand generation, marketing automation and more.

Today, our clients repay us with an accolade of their own: we've been recently been named as one of the Clutch 2022 top marketing agencies in Connecticut.

Clutch is an online review and rating platform primarily serving the B2B industry. It accomplishes this by using a unique verification process that determines the authenticity of the information sent to them. Those that pass through are published on their site in the form of reviews like this one:
Before any company can be considered one of the best within its respective industry, it first needs to earn high-quality reviews from its clients. This system is one of the fairest that is possible within the B2B industry. Clutch places all of the judging power in the hands of the people with direct experience with us and our work. We could not have achieved this reward without our amazing clients.

"Our Clutch profile and reviews are an important way that potential clients can learn more about us, and we're pleased to have earned this important recognition."




- Ken Lempit, President of Austin Lawrence Group
We want to express our sincere appreciation and gratitude to the efforts and initiative of our clients who helped us make this award possible for our team. The meaningful relationships we have with our clients got us to where we are today, and they're what will allow us to keep growing.
Learn more about our SaaS growth services and how they can further improve your operations by visiting our website. We'll meet you where you are, whether that's tuning up a lead generation program to meet short-term imperatives or building a comprehensive demand generation program to build for the future. Whatever your unique case may be, contact us today and we'll let you know how we can help.
Need help with lead generation, specifically? Try out our risk-free content assessment offer here.
Also, you can hear stories, lessons and advice straight from CEOs and CMOs of fast-growing SaaS firms on our podcast, SaaS Backwards. We post new episodes twice per month, so be sure to subscribe on Apple Podcasts, Spotify or wherever you listen to podcasts to stay updated.