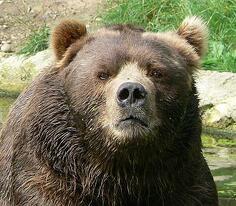 I've never met someone who loved or even really liked Eloqua, a marketing automation / inbound marketing platform that's now owned by Oracle. OK, some service providers who earn their livings as Eloqua consultants like it just fine. Eloqua is positioned as an enterprise marketing automation platform. When I read this description, I get ready for a heavy lift implementation and a lot of ongoing "care and feeding." And that's exactly what everyone I've ever spoken with says about Eloqua. It's a bear to start up, and no one is happy being responsible for it on a day-to-day basis.
Most users we meet call Eloqua "a bear to live with."
Eloqua users report that they cannot easily get what they want out of the system. It can take three or four hours just to implement a landing page. It's hard to format the HTML. They compromise on look-and-feel because the fight isn't worth it. Programming a workflow is difficult. Things aren't laid-out like a marketer thinks, so to implement a campaign, you're all over the system.
Mid-size companies can't afford the overhead of Eloqua. They need the efficiency and ease-of-use offered by HubSpot.
It's not just big companies that use Eloqua. A lot of mid-size software firms use Eloqua, too. From what I've witnessed, there are two main reasons for this. When they first sought marketing automation there weren't a lot of choices and/or they wanted to emulate the marketing practices of their larger competitors (often where marketing leadership comes from at upstarts).
But mid-size companies cannot afford the same overhead and time-to-market delays that don't hurt dominant players in their segments. They need to be nimble and iterate to improve their game. They need a platform more geared toward entrepreneurial companies, with the tools, analytics and integrations that support their growth ambitions. They need HubSpot.
But how to make the change from Eloqua to HubSpot? Turns out, it's not all that difficult, though there is a bit of work to do. You probably don't need to educate too many people at your business about the ROI potential of Inbound Marketing, you just need to make it easier to achieve.
Here's our three-phase program to help clients migrate from Eloqua to HubSpot:
1) Initiate a free trial of HubSpot and setup a few campaign elements (landing pages, forms, workflows, etc.).
Create basic template for landing and thank you pages, email
Make sure your HubSpot landing pages conform to best practices
Integrate HubSpot analytics with your Website (it will play nicely with all other tracking on the site)
Integrate HubSpot with Salesforce.com administration and create/modify the lead distribution script to accomodate new leads from HubSpot
Setup HubSpot lead scoring so reps can see the power of analytics (you can easily change this over time so don't worry about making the scores perfect)
Deploy HubSpot test inbound marketing campaign with a couple of representative CTAs
2) Measure results over a two-week period and compare to Eloqua
How does effort required compare for like campaign elements?
How much better is landing page performance for like/similar offers?
How much easier is it to build workflows?
How does reporting compare? Can you easily tell what's paying off?
3) Page-by-page migration plan (assumes you're moving off Eloqua to HubSpot)
Document all Eloqua landing pages and workflows
Priortize migration based on performance - high performing and "needs improvement desperately" go first.
Build template library for landing pages, emails, thank you pages, etc.
Create HubSpot call to action for each offer
Build page images in sandbox for Web team to swap out (or if you don't have a staging site, prepare all content in advance and then swap call to action)
Deploy as ready in collaboration with your Web team
Customize Salesforce.com/HubSpot as needed
De-commission Eloqua once all CTAs and landing pages are migrated
HubSpot is a very efficient at basic marketing automation tasks.
To give you some idea of the efficiency of HubSpot vs Eloqua, it took just about one hour to write this blog post (from scratch), a landing page, a thank you page and an autoresponder email for all who submit the form for the CTA below. How long would that take on your current (Eloqua) plaform?
Want to learn more about migrating from Eloqua to HubSpot?
If you'd like to learn more about our Eloqua migration to HubSpot service, we'd be happy to schedule a complimentary 30-minute call to talk about it. Just hit the CTA below!